Serving the citizens of Genesee County since 1975!
Welcome to Swartz Ambulance
Swartz Ambulance Service Inc. is proud of our dedicated and experienced team of professionals. It is this staff that makes a difference in delivering outstanding service to the residents of Genesee County every day. Swartz Ambulance Service has a long history of serving the residents of Genesee County.

Since being established our company has focused on customer satisfaction and providing exceptional service to our communities. According to the standard set forth by the Commission on Accreditation of Ambulance Services.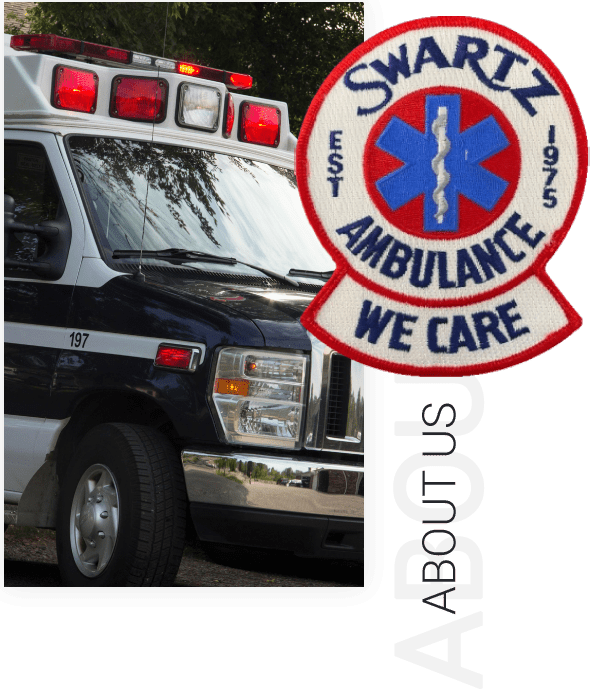 Our Equipment

Career Opportunities

Our Staff
If you have questions
about our any of our education programs or classes or
would like to reserve your seat in a class, please contact us.

Most professional and very helpful caring staff.
- Jean Miehm

Professional staff, very helpful and caring. Highly recommend.
- Kimberly A Shugars

We loved the Fention Home Depot Fire Safety event! Thank you for teaching my 6 and 7 year old daughters what to do if a friend is choking. The EMTs were so helpful and friendly and did a great job explaining CPR to the kids.
- Lauren

Very caring staff when transporting me after my stroke I was an emt 22 years
- Mike Starr

They are the best. Husband had excellent care
- Punky Pastori

An amazing company to work for and incredible Emts and paramedics. Management is very helpful and caring
- Sami Krause